Construction of Stop Dam at Gail Village Project
NCHSE has made large contributions on the front of water conservation works. The adjoining photograph is an example of one of such works, which depicts a dam constructed at fairly reasonable cost, in record time, at Gailor village of Jhabua. Ensuring peoples' participation this magnanimous structure was erected. The total cost was barely Rs 10.75 lacs.
The dam has dimensions as:height-8 meters, length-52 meter, gates-3. This has irrigation capacity of 75 Ha. area.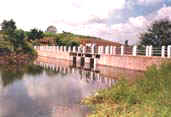 The Gailar Kalan Dam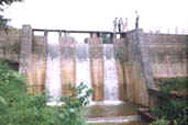 The Other view of the dam
BACK